I really love green. This is one of the few solid color shirts I have. And very light blue skirt is one of my favorites. Getting a good picture of these things is tricky. This was taken by my six year old.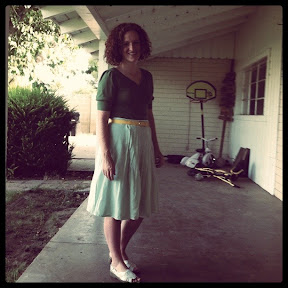 When I got home from dropping him off at school I switched to a white belt. I still don't know which I like better. But I love the green and blue combo.
Sorry about the blurry, this was taken by my 4 year old.
On another note,
I can't believe it is Thursday already this week had flown by!
- Posted by deb on the go.