Today was the last day of General Conference.
I look forward to this time of year so much. It usually comes right when I need it. It is usually at a time in my life where I'm kind of in a rut and forgetting the things that are most important to me. Stuff just seems to get in the way and I love that conference reminds me about how to get rid of that stuff in my life and to focus on the most important things. W
hen it was over I couldn't believe it. It. flew. by. I can't wait to re-listen to all of the talks (I try and listen to all of them at least three times so it really sinks in).
Yesterday Russ had to work so the kids and I picked up Connie and we went out to my moms and had a lovely day. Then today we went to Russ' parents house. We have found that it helps a lot for the kids to be at their grandparents house. It helps distract the kids so that they let us watch conference in peace and they seem to be a bit better behaved there. For the second session today I took Joseph home put him down for nap and was able to listen to the talks by myself while I worked on a project.
I left this conference feeling really motivated to strengthen our family even more. I am going to take some time to sit down with Russ and talk about each of our kids and figure out their needs and what we need to be doing differently with them. I feel like we have been going with the flow, but I don't want to miss out on the opportunities that we have as parents to spend time with and teach our children. Before we know it they will be grown up and gone.
When Joseph woke up from his nap went back over Russ' parents and had dinner and then spent some time outside in the yard.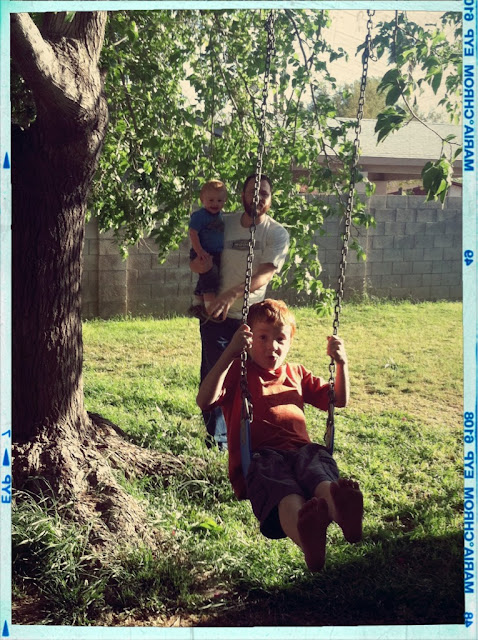 The kids were swinging, laughing, and playing. The lighting was perfect and beautiful, I could smell citrus blossoms, and a cool breeze was blowing. It felt just like heaven.
I was pushing Gracie on the swings and she said, "I have to think of a lovely thought so I can fly." (she is always flying when she's on the swing) and then she said, "my happy thought will be my family". I looked around the yard and saw her grandparents, uncle, and cousins watching and playing with the kids, William and Russ were pushing Joseph in the swing. I told her that was the most lovely thought of all.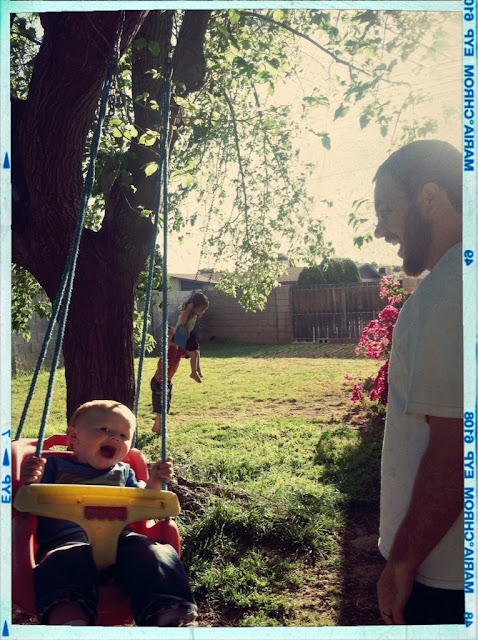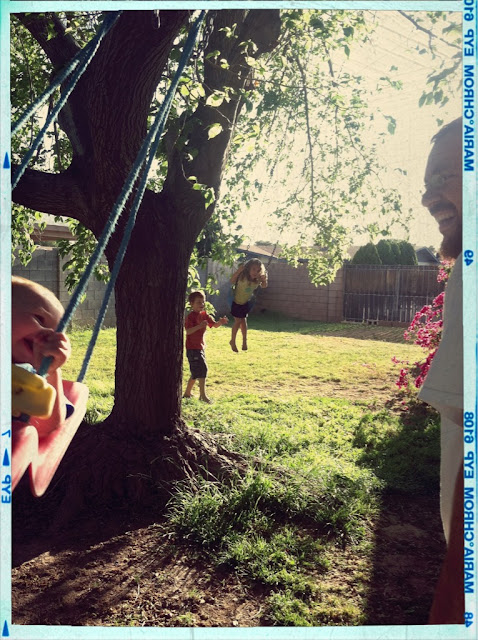 There really is nothing more important than family. I know that. And there is really nothing that makes me happier. I am so glad I got to spend this weekend with family I love and hearing the truth of the Gospel. I am so happy.
Now here is a video of Joseph spinning in the swing. I promise he did like it (he didn't laugh as much in this one, but he was the time before)